First, I would like to mention that I consulted with one of the moderators (Geno), and he approved this personal classified ad.
Review from PokerSourceOnline-
Nevada Jacks poker chips

These are, by far, the nicest poker chips available. If No Limit Texas Hold 'Em is the Cadillac of poker, then Nevada Jacks are the Cadillac of poker chips. If you're looking for a casino quality poker chip at a fraction of the price, there's not doubt that these are the poker chips for you.

Unlike the plastic-composite poker chips that are either too heavy or too light, these poker chips are actual casino weight (10g). They have slightly rounded multi colored edges, which give them an authentic, broken-in, type of feel. Coloring is excellent but slightly blurred upon up-close inspection. This is likely the result of the texture of the chip. When tested side-by-side with real casino chips, these sounded almost identical.

The poker chips are also unique in that for printed high detail poker chips the images are printed on the chips. It is not a label simply stuck on the chip but rather the printed image is stamped directly to the chips themselves. The poker chips have a rough texture which actually is a plus when you're handling them. Another positive for this texture is that it makes them virtually impossible to scratch.

These poker chips will last for years in your home poker game and show little sign of wear. You'll be the talk of the table when you break out a set these poker chips!
Includes:
300 Nevada Jacks Poker Chips
Your chipset will be configured with the following denominations: 100 Blue ($1) / 100 Red ($5) / 50 Green ($25) / 50 Black ($100)
High quality locking aluminum case
2 decks of new unopened "Copag" playing cards
Dealer Button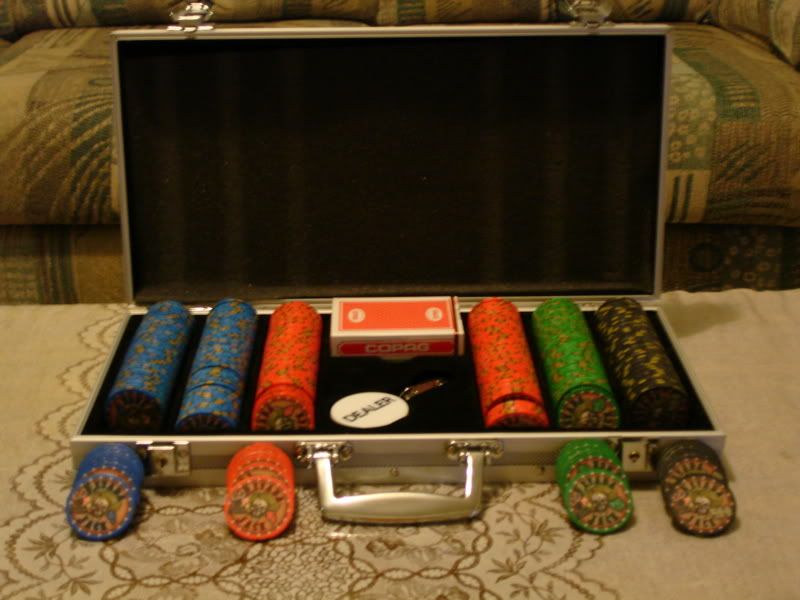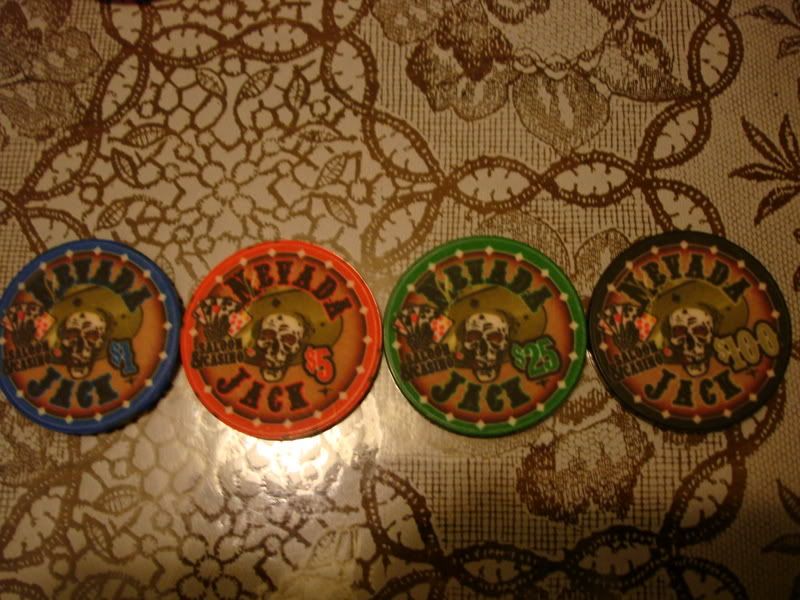 These sets are currently selling for $200+ on eBay-
$170/SHIPPED
(Lower 48 US States, Alaska & Hawaii inquire about additional Shipping Charges)
Facts-
I have ONE set of these, I am not a "store" or reseller of any sort.
This is a NEW set; never used.
The included Copag cards are
unopened
, still with the plastic seal intact.
New locking aluminum case IS included.
Some ebay auctions include a stick (5) of dice, these are
NOT
included.
I am a verified 3si seller, (auto message board,
www.3si.org
), with +42 and zero negative feedback.
I am a verified PayPal user.
This poker chipset is ready for immediate shipment, with tracking number to be included.
I accept multiple forms of payment, including PayPal, NETeller, and epassporte. Money orders & checks, and any mailed payments will
NOT
be accepted!!
PayPal to ADR420@hotmail.com
PM me for payment info if planning on payment through NETeller or epassporte
FIRST TO PAY GETS IT, ABSOLUTELY NO "DIBS"!!
Once again, these are top quality for your dollar; don't take a chance at someone bringing their own plastic K-Mart chips to your next poker game and trying to cash them out at the end of the night! You will get $6850 in total chips, more than enough for your home game!
Thanks for looking, whoever buys these is getting a major deal, and will no doubt be satisfied!
Andrew
ps- c-notes in one of the pictures NOT included!
Posts: 616
Joined: Wed Dec 01, 2004 7:06 am GMT
Location: Las Vegas, NV Posts: 7681
---
---
---
---
---
Iron Butt wrote:FYI, this is $179 new and shipped from NJs. If you can get two-fitty on ebay I'd go for it, nothing wrong with getting whatever you can for it, but not an amazing deal IMO.
well shit, i guess thats the way to go then
Posts: 616
Joined: Wed Dec 01, 2004 7:06 am GMT
Location: Las Vegas, NV Posts: 7681
---
---
Return to Cards, Chips, Tables
Who is online
Users browsing this forum: No registered users and 2 guests